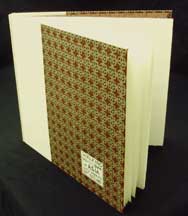 A handmade book including all sixty woodcut prints is available, details below.
A selection of individual prints from the series is presented here. Click on any print to see a larger image.
Walking up and down in Asia
"From 1986 to 1993 I traveled around the world, living in Europe and Asia and in various parts of the States. My primary interest however was traveling in Asia. The intensity of travel lured me on to see more and more. Experiences of people and places left there mark and I have tried to give back some of that feeling. The Tibetan nomads, Vietnamese "cyclo" drivers, Japanese "salary man," Sikhs, Thais, and Uygurs that make up this series are the actors on an impossibly crowded world stage. It is this sometimes overwhelming encounter with the world that these prints seek to express."

Prints in this series include images of the following countries China, Tibet, Hong Kong, Macau, Japan, Singapore, Vietnam, Thailand, India, and Pakistan. The production of this entire series makes up a period of 14 years from first trip to bound book, although the body of the prints were cut in the mid to late 90's.

Review of Walking Up and Down in Asia
"When people embark on their travels, they often record their adventures in snapshots or in travel journals. Art Hazelwood has taken a more time-honored approach to recording the memories of his travels throughout Asia. After sketching his observations on drawing pads, Hazelwood creates woodcuts of his impressions in a graphic folk style. Flattened perspectives give added emphasis to an all over patterning, with crowded compositions that fill every square inch of the picture frame. Hazelwood's dynamic genre scenes and landscapes at once emphasize the frenetic activity of a dense urban metropolis such as Tokyo or Hong Kong, while at the same time, capturing the more leisurely way of life led by the region's rural inhabitants.

The artist first traveled to China in 1986, and has since developed somewhat of a love affair with Asia, having revisited the continent extensively over the past fourteen years. More than sixty woodcuts comprise Hazelwood's Asia series, on view at the Fetterly Gallery in Vallejo. The artist's enchantment with this region of the world and its people comes through in his images, which record travels in China, Hong Kong, Macau, Japan, Singapore, Vietnam, Thailand, India and Pakistan. Such sentiments prove to be infectious, for in looking at Hazelwood's woodcuts, we cannot help but be tempted to partake in a similar journey by following the artist's travel routes."
Berin Golonu, Artweek July/August Edition 2000
Walking up and down in Asia, book of sixty woodcut prints, 2000, Edition of 10, 16 1/2" x 18 1/2", Sixty woodcuts were printed by the artist on Masa paper in editions varying in size from 25 to 50 of which numbers 11 - 20 were bound by the artist in a hand sewn hard cover book format. The prints were tipped in onto Arches Cover Text paper. The book measures 16" x 18" and is 72 pages altogether. This hardcover book is $1,800.00. Individual prints $50 - $100

This book acquired by the following collections: University of Colorado, Boulder, Library, Stanford Special Collections Library
Postcards from Asia assembles some of the smaller prints from the series in book form