Artist: Artist Books & Portfolios
Artist Books & Portfolios | Prints | Political Posters | Painting | Exhibitions
Pillars of Society
---
Pillars of Society
Art Hazelwood's series of linocut prints titled "Pillars of Society" takes its inspiration from the title of a painting by George Grosz who portrayed the destructive leaders of society in Weimar Germany in the 1920s. In Hazelwood's prints he brings his own satirical edge to contemporary America. In imagery richly populated with grotesque figures the series depicts a world of sycophants, war profiteers, and mercenary violence.
The series consists of five linocuts, each printed from 2 blocks, a grey and a black. Each print is 18" x 24", printed on Rising Stonehenge Warm White paper. The cover of the portfolio is Gray BFK paper with a screenprinted title. Individual prints are $450. The series of 5 in the folio is $2,000.
The first public display of this series took place at the Mission Grafica.
Galeria Zapatista at Mission Grafica presents:
Pillars of Society, Prints by Art Hazelwood
Mission Cultural Center, 4th floor
2868 Mission Street
San Francisco, CA 94110
May 4 – July 15, 2007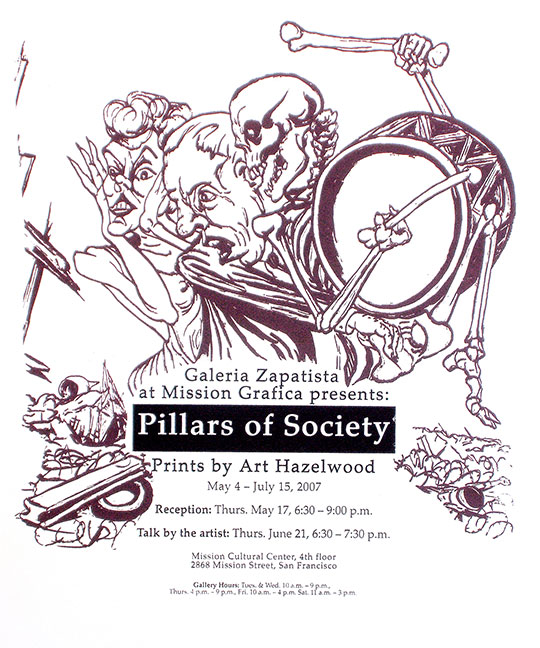 Poster for exhibition, screenprint, 16 1/2 x 14, 2007
---