Impresario:
Artists' Estates | Publications | Curatorial
In Extremis: Prints Monumental, Intimate, and Encompassing
---
Curated by Art Hazelwood
Meridian Gallery
San Francisco
www.meridiangallery.org
May 21 - July 30, 2011
From the tiny to the monumental, from installations to political posters, printmaking has many ongoing traditions. Some of these traditions are complimentary, some at odds with each other. The exhibition, In Extremis: Prints Monumental, Intimate, and Encompassing, explores contrasting approaches to contemporary printmaking in Northern California through the work of more than thirty artists and artist groups.

The scale of a print reflects the artist's intention to communicate in a more or less public way. Small scale work creates an interaction between the print and the viewer that is more intimate and so draws the viewer into a one on one relationship. This is perhaps the oldest tradition in printmaking, and one which is still a vital part of the art. These prints are often etchings or wood engravings on a scale that demands the viewer to be close and alone with a work. David Avery's tiny worlds of darkly satirical vision provide an electric shock of recognition as one leans in for a closer look. Jessica Dunne creates atmospheric aquatints of urban landscapes that dissolve the grit of the city into miniature monuments to motion and movement.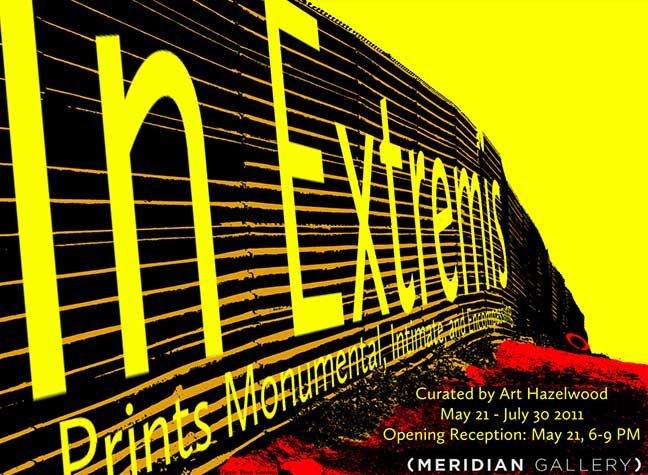 In contrast, prints that are created on a larger scale, that call out from across the room and envelope the viewer by their sheer size, are increasingly produced as artist bring the print into the arena of the more monumental trends in modern art. The sheer size of these pieces address the public arena and make a statement about the relation of art to our surroundings. Sandy Walker, who had a one person exhibition at the Meridian Gallery in 2009, is displaying a self standing twelve foot long woodcut print that is reminiscent of a Japanese folding screen. Jenny Robinson continues to explore urban structures in decay through her large scale monoprint and intaglio images. Rik Olson exhibits a linoleum cut that was printed with a steam roller.
While the extremes of scale are being explored by artists in contemporary prints there are other dimensions along which the print is moving. One area of peculiar interest by contemporary printmakers is the installation print, created to invite the viewer to participate or to see the work within a prepared context. These installations using printmaking elements seek to surround the viewer in a self-contained, self-referential and often three-dimensional world that invites viewer participation. Kathy Aoki previously created a full scale Egyptian tomb with self-created artifacts. For this exhibition she has created a miniature diorama. Artist Imin Yeh has teamed up with art book collector Dickran Tashjian to create an installation presenting both the enthusiasm for collecting and the limitations that amassing huge collections entails. And moving off the horizon of printed paper the Great Tortilla Conspiracy creates an edible printed tortilla, a truly participatory art.
Pushing out from the environment of an installation into the wider world is the focus of political printmakers. The longstanding democratic function of prints in the public sphere is presented through political prints made for the specific concerns of the moment, for wide distribution or for street actions. A new series of political prints focusing on the US/Mexico border wall and another series created by the San Francisco Print Collective that focuses on the so called "Secure Communities" initiative of the Federal Government are two of examples of political prints in the exhibition.
The contrasting approaches to printmaking will give a fuller vision of how broad and exciting the traditional printmaking techniques of etching, woodcut, screenprint and lithography are today.

Artists include
Kathy Aoki, David Avery, Alexandra Blum, Robert Brokl, Jessica Dunne, Juan Fuentes, Alice Gibbons, Ronnie Goodman, Art Hazelwood, Katya McCulloch, Sarah Newton, Rik Olson, Patrick Piazza, Roy Ragle, Jenny Robinson, Calixto Robles, Anthony Ryan, Jos Sances, Herlinde Spahr, Toru Sugita, Xavier Viramontes, Sandy Walker, Imin Yeh

and artist groups – The Great Tortilla Conspiracy, New World Border, San Francisco Print Collective, San Quentin Printmakers, Sit/Lie Posse, a wide selection of artists in the print sale room, and the art book collection of Dickran Tashjian.

---
A few of the many works from this show are pictured on this page.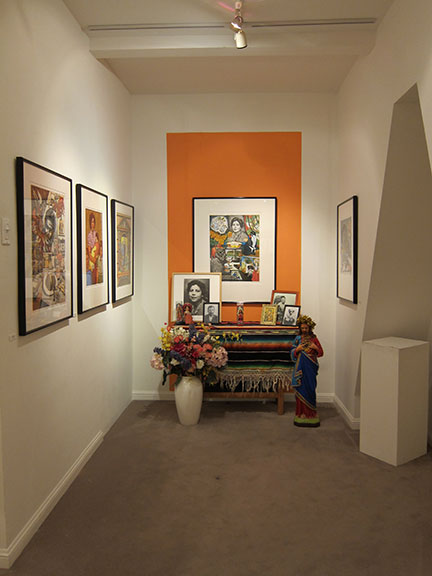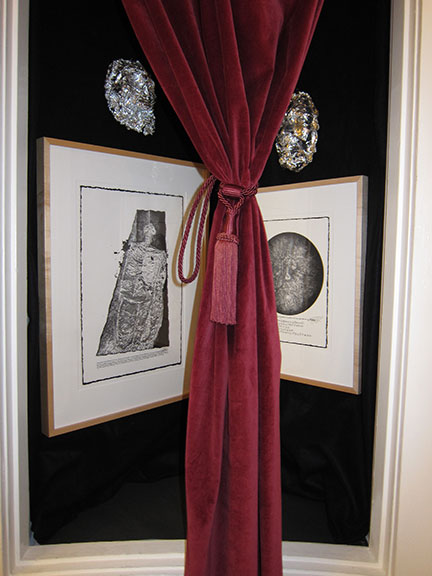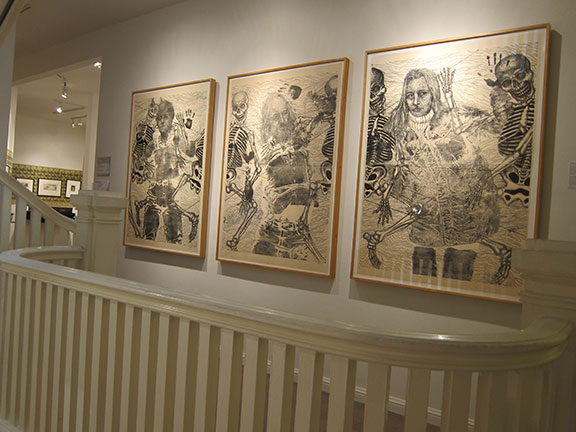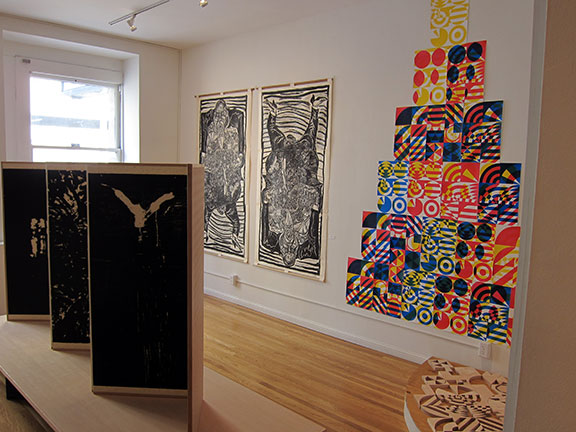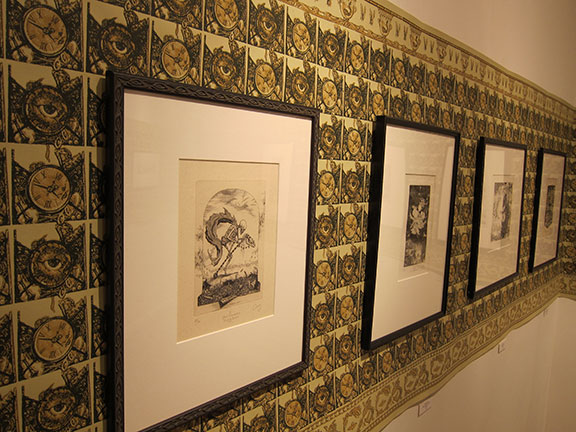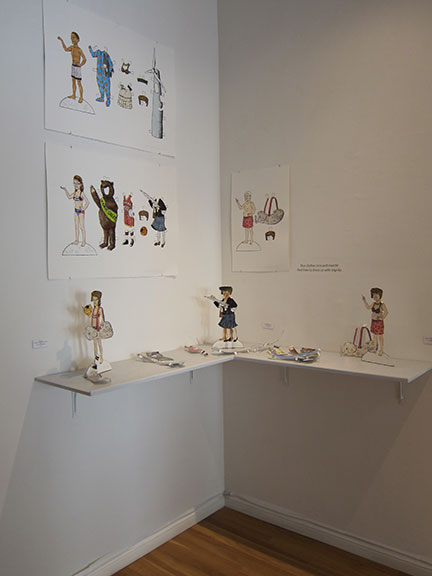 ---