Impresario:

Artists' Estates | Publications | Curatorial
Publications: Writings and Artwork
---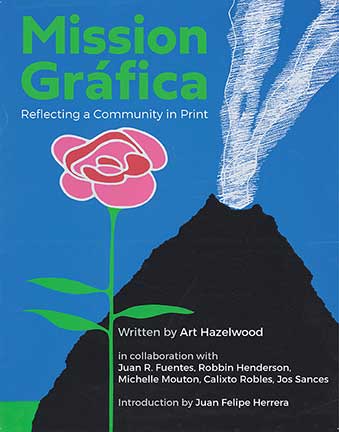 Written by Art Hazelwood
in collaboration with Juan R. Fuentes, Robbin Henderson, Michelle Mouton, Calixto Robles, Jos Sances

Preface by Juan Felipe Herrera
Mission Gráfica: Reflecting a Community in Print
Published by Pacific View Press, San Francisco, CA
Available Fall 2021
This abundantly illustrated narrative, with an evocative introduction by US Poet Laureate Juan Felipe Herrera,
offers inspiration for new generations of graphic expression and situates Mission Gráfica within
the context of the rich history of political posters in the San Francisco Bay Area.
---
David A Beronä
Introduction by Eric Drooker
64 pages, color cover, interior black and white, 23 illustrations
perfect bound, 8.5 x 8.5 inches
designed by Art Hazelwood
ISBN 978-0-915117-25-3, $11.95
Published by Freedom Voices, San Francisco, freedomvoices.org

Artists include
Olivier Deprez, Jules Remedios Faye, Drew Grasso, Art Hazelwood, Frances Jetter, Billy Simms, Kurt Brian Webb.
---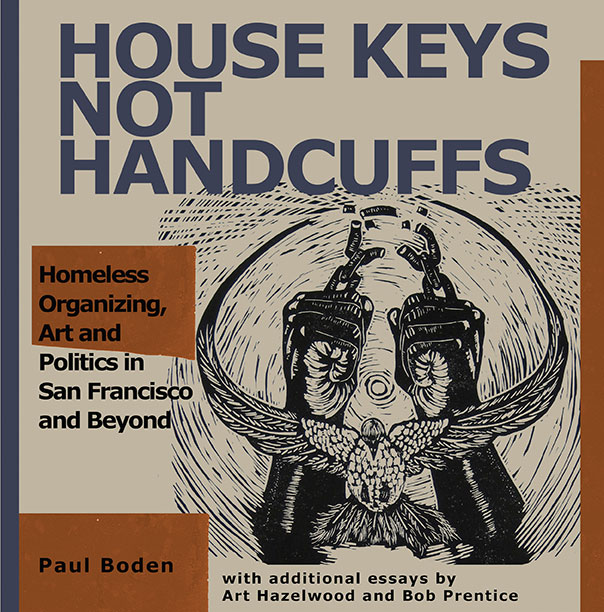 by Paul Boden
with additional essays by Art Hazelwood and Bob Prentice
Published by Freedom Voices, San Francisco, CA, freedomvoices.org
108 pages, 67 images, ISBN 978-0-915117-24-6, $30.00
Artists:
Sandow Birk, Robert Curet, Joseph DeNeri, Francisco Dominguez, Eric Drooker, Ronnie Goodman, Ed Gould, Christine Hanlon, Art Hazelwood, Dorothea Lange, Allison Lum, Tom McCarthy, Malcolm McClay, Eliza Miller, Doug Minkler, Maxx Newman, Jos Sances, Tony Taliaferro, Jane "in Vain" Winkelman, Nili Yosha, and Artist Collectives: Paula, Jennifer and John from Odiorne Wilde Narraway and Partners, San Francisco Print Collective, Sit/Lie Posse, Seeing Words Design


---

by Art Hazelwood with an afterword by Paul Boden
Published by Freedom Voices, San Francisco, CA, freedomvoices.org
84 pages, 57 images, ISBN 9780915117208,
$25.95
---
Elizabeth Ginno Winkler, aka Elizabeth de Gebele Ginno, (1907 - 1991), Flight in Time, c. 1940, lithograph, 5 3/8 x 6 7/8", Courtesy of Annex Galleries and the estate of the artist
This essay is a very locally focused summary of the history of Northern California print. Read the long (8,800 words) essay here.

It was written for the California Society of Printmakers for their book celebrating 100 years. California Society of Printmakers: One Hundred Years, 1913–2013. This 330 page book with more than 380 illustrations is currently out of print but may be reissued in electronic format.
---
essay by curator Art Hazelwood
The story of the development of the relief print in California carries with it the story of the Golden State. The woodcut and wood engraving techniques formed the basis of several distinctive art movements as well as cultural and political movements. Women found powerful and early voices in this media, as did the Labor movement and more recently Latino artists. Guest curator Art Hazelwood has selected nearly 100 works spanning 100 years of California history.
Read the essay in the pdf (1.6 mb) of the exhibition brochure.
---
Art, Artists and Activism– 1930s to Today
By Art Hazelwood
at ArtBusiness.com

This Huffington Post article was a collaboration with Paul Boden based on the above essay.

---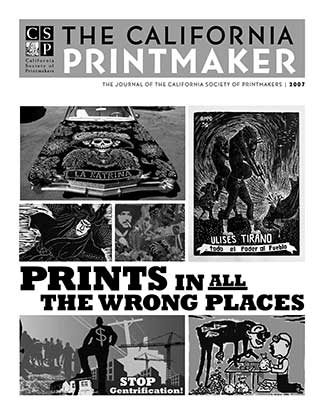 Art Hazelwood was the guest editor of the 2007 California Society of Printmakers journal. The thematic issue was titled
---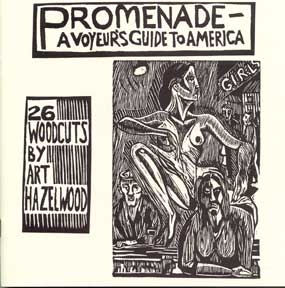 This trade edition is available for $12.95 from the artist
or from Printed Matter a New York Artists' Book Store
---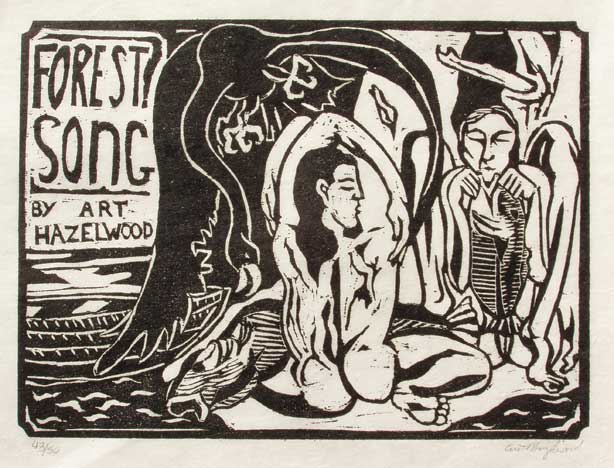 Woodcuts by Art Hazelwood
San Francisco, CA: Epigone Press. 1995
Available from the artist or from Printed Matter a New York Artists' Book Store

From the Printed Matter website


Synopsis: Forest Song is the trade edition of Art Hazelwood's woodcut print series. The text and images are both black and white printed woodcuts, standing side by side on opposite pages like captions preceding silent movie scenes. The story has a universal and primitive feel, involving dreamlike scenes of a music so primal and powerful that it "draws everything inward to a whirling center." People metamorphose into flying beasts, and civilization is forever disrupted.

Pages: 23, Dimensions: 28.5 x 21.5 cm., Cover: Paperback, Binding: glue bound, Process: offset-printed, Color: black-and-white, ISBN: 0964020874, Price : $15.00

---
Edited by Josh MacPhee, Foreword by Rebecca Solnit
Feminist Press Price:$19.96, Hardcover, 256 Pages
ISBN: 9781558616776
---