Artist: Artist Books & Portfolios
Artist Books & Portfolios | Prints | Political Posters | Painting | Exhibitions
---
A description of Rabelais and this series written by Timothy Hampton
A large continuous image of the fully opened book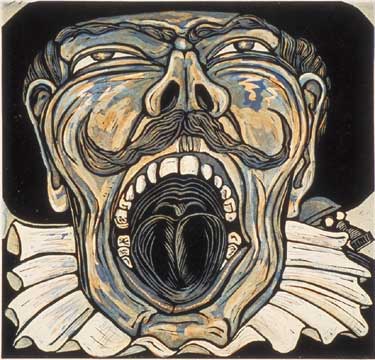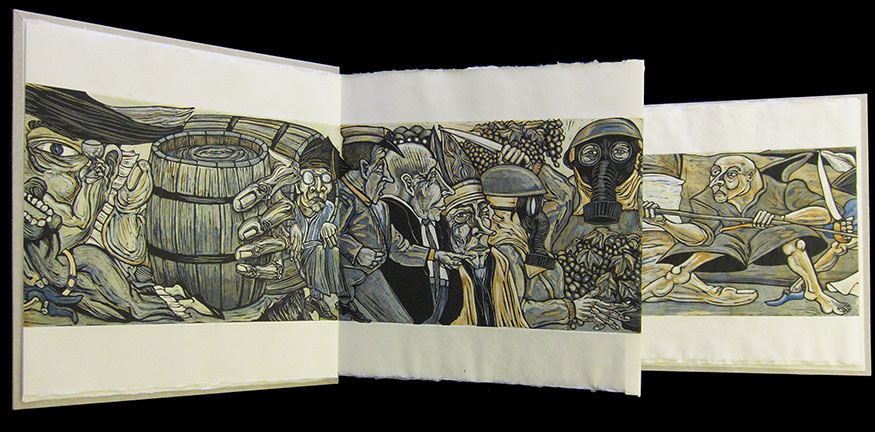 Gargantua in the Vineyard

Francois Rabelais (circa 1490 - 1553) and his satirical writings on the illustrious giants, Gargantua and Pantagruel, were the inspiration for this book of prints.

Rabelais was a scholar of erudition,
a mocker of manners,
a defender of appetites,
an adherent of wine,
and a champion of laughter.

This visual interpretation was inspired by an episode in book I, chapter XXVII. Friar John, a monk of considerable thirst, is outraged by the invading army's destruction of the grape harvest. He grabs the staff of the cross from the altar and attacks the plundering army. The giant Gargantua and his allies join the battle and drive the enemies of wine, wit and wisdom from the vineyard.

Rabelais is not well known in the United States but is essential reading in France. His books were shocking in his day, leading to accusations of heresy. Rabelais seems an appropriate subject today in an age that takes itself so seriously. He laughed at much that was hypocritical in his age as in ours.

This continuous image book is made up of 10 separate prints joined together into one, as well as a cover image, title page and colophon. The image area measures 12" x 180" (inches). The entire book when spread out measures 18" x 288" (inches). When closed the book measures 18" x 18" (inches). It comes in a cloth covered slip case. It was Published in an edition of 25 at Eastside Editions, Sonoma, California. The prints were bound in an accordion fold format at Pettingell Bookbindery, Berkeley California. Two aquatint etching plates, one blue and one yellow were overprinted with a linoleum key block on 100% abaca paper made by hand by Simon Blattner and Roxane Gilbert at Eastside Editions.

Price for the book $5,500. Some individual Prints from this series are available.
This book acquired by the following collections:
St. Mary's College Museum of Art, Harvard University Special Collections, Stanford Special Collections

---
Three artist books by Art Hazelwood published by Eastside Editions 2001 - 2007

Gargantua in the Vineyard, 2001, etching and linocut accordion fold book printed on abaca paper

Journeys to the Moon and Sun, 2004, etching, linocut and letterpress book and folio. Cyrano de Bergerac text translated by Timothy Hampton.

Pucinella in Hades, 2007, etching and letter press book with marginalia text.
---